By Kris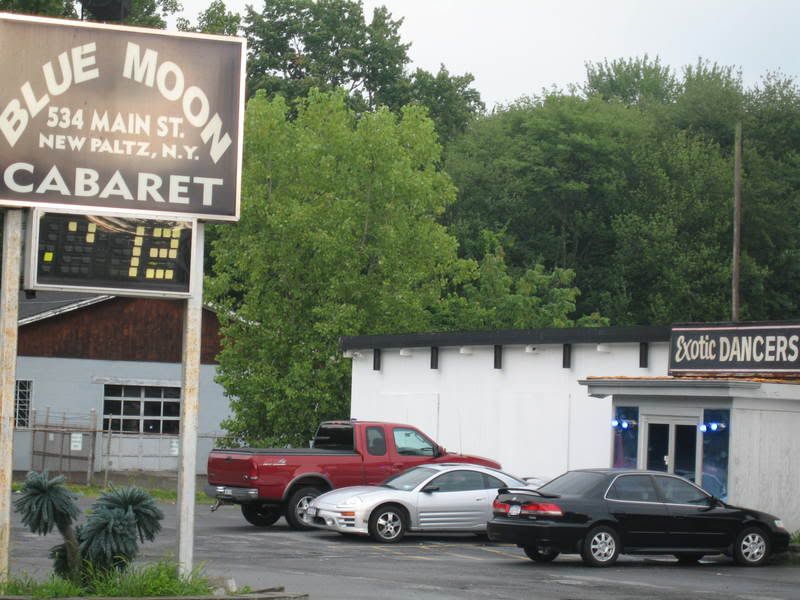 This past weekend we participated in the Hudson Valley Ribfest. New Paltz, NY, which is four hours away, is the farthest we have traveled thus far for a competition. And with 54 teams competing, it's the largest contest we've competed in. We figured it would be best to leave Friday afternoon, beat the traffic, and relax at a hotel. Well, we left on time, sat in traffic, and checked into the Econo Lodge. I was afraid to sit on the bedspread, let alone relax at this place. The motel was easy to find. It's right off the highway situated next to the Blue Moon Cabaret Exotic Entertainment Club.
We made the most of our Friday night by hitting a few pubs in the downtown area. They had some good beers on tap, 60 Minute IPA for Mike and Blue Moon for me. No relation to the strip club. We checked out of the motel early Saturday and made our way to the Ribfest. We had a great site next to one of our favorite teams, QHaven. We were lucky to spend some time with Max at his very first competition.
Throughout the weekend everything went according to plan, we had lots of laughs with all our friends, the weather held out, and we had a decent showing at the awards with a call for second place chicken and ending up third overall. Before every contest, as I peel Mike off the ceiling, I repeat my mantra. "Why do we compete at BBQ contests?" I ask. "To have fun." Mike replies. "What do we hope for at every contest?" "One call and a top ten finish." Mike replies. And that's exactly how it went at Hudson Valley.