It's big, it's fatty, it's beefy, and it's one of my favorite meals. A roasted rib roast, or prime rib as it's known, can be a perfect meal. It is a classic special occasion feast. It also seems to be very popular around the holidays. On all the forums and foodie websites you will find hundreds of recipes and techniques on cooking this primal cut of beef. Marinated, injected, smoked, slathered, crusted, stuffed, herb infused...it can be overwhelming. For me, a rib roast should taste like rich beefy goodness. Well executed, simple food just tastes good.
Here is my rib roast recipe/technique that I use any time I cook one.
Sourcing The Goods
Buying an 18 pound piece of quality meat can be costly. But buying an 18 pound piece of average meat can just plain suck. I'd much rather spend a little more money for a higher quality cut of beef than save a little money and buy something inferior. So, I have some great relationships with several different butchers. That's real important for getting the good stuff. But what I think is almost as important, is buying beef in it's original cryovac packaging. I want to know exactly where this beef came from. We've all seen these high end butcher shops claiming that their beef is the best. Sure, the meat looks great in those fancy display cases, but where did it come from? So, I ask. I also would like to see the shipping box that the beef came in. That way I can see the pack-on date that's printed on the box. That is very important if you'd like to age the beef properly. If you feel awkward about asking these questions, don't. Most butchers don't mind, and the ones that do, shouldn't be in the business. Just move on.
This was a nice 18 pound Certified Angus Beef rib roast that I sourced from BJ's. Yep, BJ's Warehouse Club. They don't always carry CAB, but when they get it in, I get a phone call from my guy on the inside. He'll be thanked with some pulled pork real soon.
Mise En Plas
Just a fancy way to say: get your stuff together; it literally translates to 'putting in place.' So for this recipe I gathered everything I needed and did anything that I could do to make the cook go as smoothly as possible. Grind my pepper, cut some twine, chop some onions, carrots, and celery for my au jus, and basically get out everything that I need.
When you buy a whole cut of beef still in the cryovac you need to do some trimming. The rib roast always comes with a thick fat cap on the topside. I take most of it off, but not all of it. I think a little bit of fat on the outside is very important. That cooked exterior, with fat, rub and a little char, can be a fantastic bite. The rib roast is usually thicker on one end. I trim off a few inches from the smaller end so that the roast will be more uniform in size. This really helps the meat to cook more evenly. I also end up with 2 giant rib eye steaks to cook in my cast iron pan at a later date. Win, win!
After I trim the roast I tie it up. I think this is an important step that most people skip. Again it all has to do with uniformity. The more that you can make this roast consistent in size, the better. From cooking it, all the way down to the final presentation.
I season my rib roast simply, but aggressively. It's a thick cut of meat so it can handle it. I use a copious amount of extra virgin olive oil and rub it all around the outside of the roast. Then I apply a liberal amount of kosher salt and fresh ground pepper. Followed by a dusting of garlic powder. I let the seasoned meat sit out at room temperature covered with tinfoil for an hour, sometimes two. Right before it goes into the oven I season it with another heavy sprinkling of kosher salt.
I grew up in a household with one cooking style: 350 degrees for 20 minutes a pound. It didn't matter what it was. Beef, pork, whole chickens, any kind of roast; whatever was going into the oven, it was going in at 350 degrees for 20 minutes a pound. Sometimes things turned out okay, sometimes not. (Try cooking a 2 pound pork loin for 40 minutes!)
For this type of roast I like using two different cooking temperatures. First, I get my oven as hot as it can go. For me that's 500 degrees. I adjust the oven rack so the meat will be just a few inches from the top broiler. I cook the roast for about 20-30 minutes, flipping and rotating the whole time. I'm trying to get an even 'sear' on the meat all the way around. Then I take the roast out, shut off the oven, and keep the oven door open.
While the oven and roast cools down I'll assemble my ingredients and equipment for the rest of the cooking procedure. In a disposable tin (or a big roasting pan) I place a roasting rack, chopped carrots, onions, and celery. Then pour in about 4 cups of beef broth. This is the foundation of my au jus.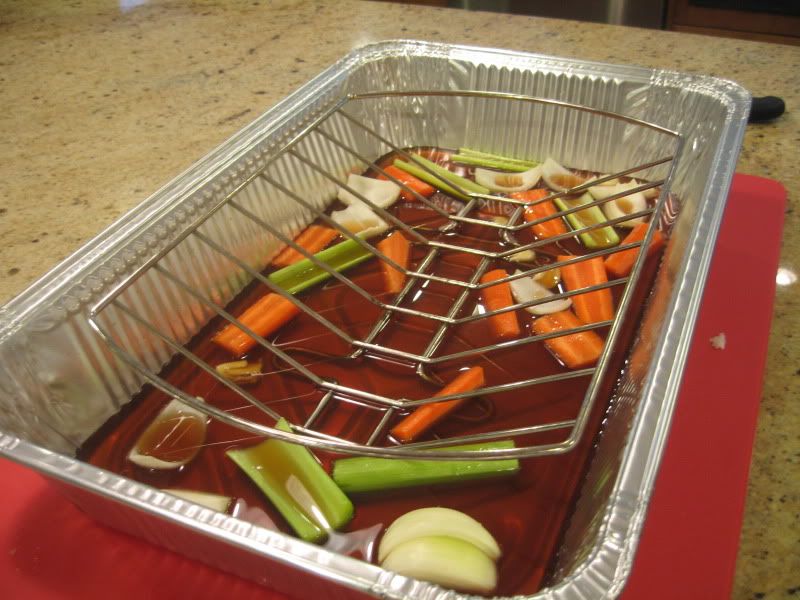 About 15 minutes later the meat and oven have both cooled down enough to continue. Some people might think this is an odd step. Why 'cool' down the roast? I'm just trying to slow down the cooking process. I want my roast to be seared on the outside and then rare all the way through. I'm trying to avoid a large 2-3 inch band of overcooked meat before you get to the rare center. This step assures that.
Then I set my oven to 180 degrees. I want this roast to cook as slow as possible over the next several hours. This is another crucial step in making sure that the meat is rare all the way through. If you're looking for a roast that is more medium then rare, don't follow this recipe. Just do 350 degrees at 20 minutes a pound. :)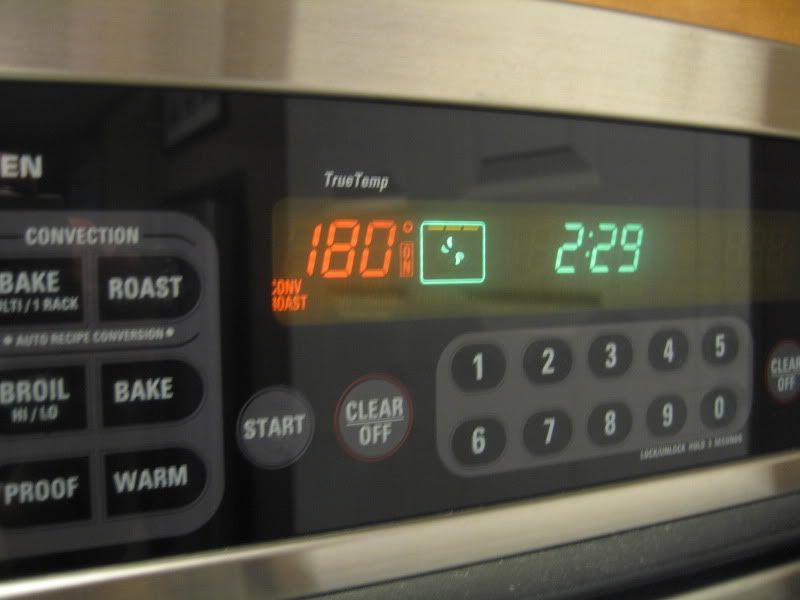 Move your oven rack down away from your broiler and place the roast in the oven. Now go do something. Clean the house, go for a walk, talk to your spouse, anything. Just don't touch, fiddle, poke, or fuss with the roast for the next several hours. Just leave it alone and let it cook.
After about 3-4 hours of cooking probe the meat once in the middle of the roast with a reliable thermometer, like a
Thermapen
. I like my beef rare, so I'm looking for 122-125 degrees. When it hits that temp, remove the roast from the oven, wrap it in heavy duty tinfoil a few times, wrap that in a towel, and let it rest for 1-2 hours. In that time strain the juices from the bottom of the roasting pan into a grease separator. Let it sit for 30 minutes then decant into a small sauce pan and bring to a boil for one minute. Adjust the seasoning and set aside. That's your au jus.
Serve
Now, it's inevitable that someone you're cooking for will not want their meat cooked this rare. It's crazy, I know. But don't ruin the entire roast because of one or two guests. Cook it to rare, rest it, then slice it. Take a few slices and toss them into a 350 degree oven for 20 minutes a pound. They'll love it!
At our house we serve our 'prime rib' dinner with a fresh and simple garden salad, potato gnocchi, and hot biscuits. The au jus and a creamy horseradish sauce are served on the side... I'm sure some of you are wondering where the hell is that picture, right? You took pictures of your oven but none of the final dish? Yeah, sorry about that. I cooked this roast for my sister's birthday and by the time it hit the table, it was gone. You'll have to take my word on it, it looked and tasted excellent.