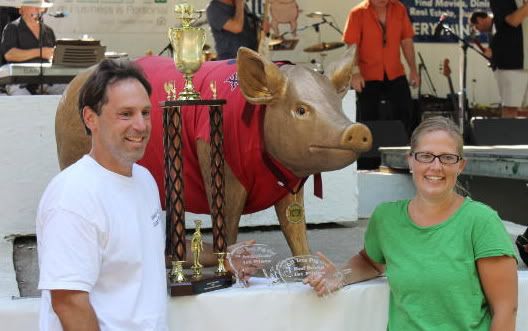 We love The Troy Pigout. Kris and I have been there for all four years and I think we like it more and more every year. The first year (2008) we got our first 1st place chicken call. The second year we won the contest. The third year we found a hotel within walking distance. And this year we were named Grand Champions again and brought Victor back home. This Grand also ended a dry spell for Lakeside Smokers. It had been a while since our last KCBS win. We've been close, a lot of 3rd overalls, and a few Reserves, but no wins.
We pulled into Troy, NY on Friday night and checked into our hotel. They were overbooked for the weekend so they had to upgrade us from a room to a suite. That didn't suck. We had plans with some friends for dinner later that night. But, for now, we had some time to kill. So, we walked over to Dinosaur BBQ and sat at their outside patio and had a few drinks by the Hudson River. The sun was setting, the libations were flowing, and we watched as our friends pulled onto the contest site. We ended our night with a great group of friends and fellow competitors over dinner and drinks. It's only Friday night and this trip was already worth it.
Saturday morning we walked over to the contest site and set up our gear. It was hot. Hot and muggy, true summer weather. As most teams were getting ready for the People's Choice Rib Competition, we walked over to the Troy Waterfront Farmers Market. One of the best farmers markets I've been to. We purchased bread, cheese, basil, and tomatoes to share with some friends later that night. After the madness of the People's Choice contest all the teams got down to business. As always, there was some late night antics to get involved in. I find the hardest thing for me at a competition is to stay focused. It can be real easy to become sidetracked and get caught up in the moment. I often do and tonight was no exception. I hit all my late night 'triggers' but I did stay up a bit too late partying and it made for a rough morning.
That Sunday morning shower might have been the best shower of my life. Although the hotel lost power in the middle of the night and the hot water was anything but. The luke warm shower rinsed the hangover away and I was ready for the day. During the morning and through turn-ins was uneventful. Things ran smoothly. We started cleaning up and waited for awards.
The awards are held in a unique setting. Under a canopy of trees is a huge stage surrounded by a grassy, hilly area. People set up blankets and chairs and spend all day there listening to bands. It's a great place for awards. Elizabeth Young took the stage for the award ceremony. She is the hardest working organizer in BBQ. She is the heart of this competition. She handles every aspect of this event with a smile. She deals with the teams, the vendors, the town officials, and will often be seen sweeping the parking lot. After she thanked everyone for coming she handed the microphone over to her fiance Jeff Buell. Jeff does a great job with awards. He is quick and to the point. He understands most of us just want to hit the road and get home. Before we knew it, we had 4 calls: 8th place chicken, 9th place ribs, and 1st in pork and brisket. Taking that walk up to the stage as Grand Champions felt great. It had been a while and with the passing of each and every contest you want it more and more. Our friends congratulated us, we hugged everyone, we buckled in Victor, and said bye to Troy, NY until next year.