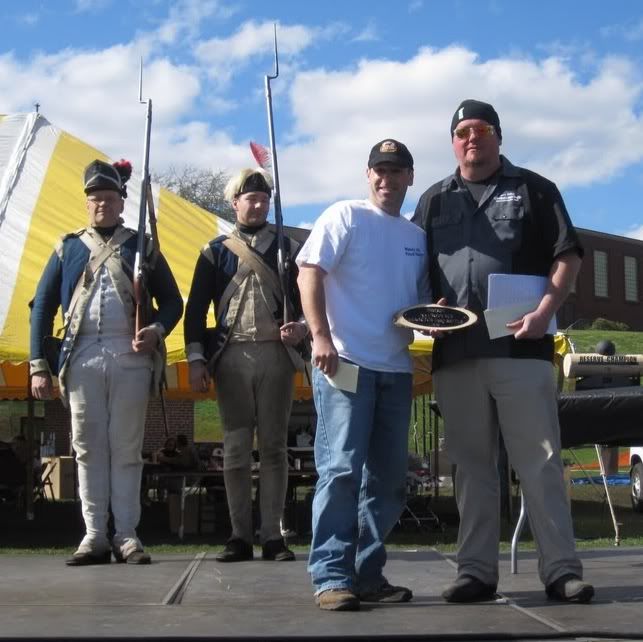 After a cold and snowy winter here in New England an early spring contest was very welcome to all of us competitors! As the snow was slowly melting and the date was looming most of us were making bets if the field in Lexington, MA would be ready for a BBQ competition. Well, it was, and we were all ready to get out there. This time of year us New Englanders have very few choices for an overnight BBQ competition. The closest being Pork in The Park in Salisbury, MD. It's a great contest, but it's also a 9 hour drive, one way, for us. So we decided to support a local event and make the 31 minute drive to Lexington. It's officially the closest contest we've ever cooked!
At the heart of the event was organizer Steve Eastridge of Meat@Slim's fame. His work on the event was ongoing from late summer and into the winter. And it showed. The festival had food vendors, cooking demos, music, stuff for kids, and even a basketball tournament. Us teams had great power, clean (and enough!) portable bathrooms, a place for ash, trash, grease, and grey water. These things might seem very simple, but you'd be surprised by how many organizers overlook the basics. Also, all the proceeds from the event went to support the
LABB Collaborative
. A great cause. Despite the chilly, raw weather on Saturday they had a decent turnout. But, to make this event a giant success, they needed a big day on Sunday. And the forecast did not look good...
For Kris and I the contest started off unlike any we have done. Because the comp was so close to home I dropped off our trailer on Friday afternoon. Friday night we spent at home, trimming chicken, washing parsley, and relaxing. Saturday morning we casually got our stuff together and took our time getting to the contest site. We arrived in Lexington just before noon. It was windy and raw out. Teams were trying to set up their EZ-ups in the wind. All you could hear was the flapping of canvas and the swears of competitors. Kris and I looked around and decided to go find lunch and our hotel. A few hours later we showed up and set up our site. Well... we really didn't set up our site, we set up a modified version of our site. Those who know us know we set up our site the same at every comp. But, with the forecast of torrential rain and high winds in our very near future, we decided to try something a little different. That's a big step for us. We cleared out our trailer and set up a few tables inside of it. Besides the poor headroom it worked rather well. We got all our prep done and then walked around to visit with some friends.
Saturday night was brutal. High winds, a lot of rain, and cold temperatures. The kind of night that makes you question your hobby. If only for a minute or two. Because usually, upon reflection, these are the nights that you remember the most. So, you make the best of it. Put on the rain gear, grab a bottle of something, and go visit. We ended up at the Ique camp for most of the night.
John Delpha
made a wonderful porchetta that we all snacked on. The whiskey was flowing freely and for a few hours we forgot about the rain storm outside that canopy. It felt good to be cooking a contest again.
Sunday a warm front moved in, the clouds cleared, and the sun was present all day. A welcome change that everyone deserved. As the day got nicer by the hour the crowds grew. Spring Fever was in full effect and everyone was enjoying this beautiful day. We drank our traditional 11AM beer and listened to our standard play list on the iPod. Turn-ins went good and the awards ceremony was upon us quickly. After the smoke had cleared Lakeside Smokers took 4th overall, with a 1st place in ribs and a 2nd place in brisket. Not a bad way to start off the BBQ season. Congrats to Fatback Joe for Grand and for
Mighty Swine Dining
for Reserve.
The sun dried our gear, we got packed up, and we were home by Sunday late afternoon. As usual, the after-competition-shower felt amazing! We were home and cleaned up by 5PM. So, with award winning BBQ sitting in our fridge we did what anyone would do: Kris and I drove to one of our favorite restaurants, sat at the bar and ordered a beer, enjoyed a wonderful dinner, and reflected fondly of a great weekend.