Unibroue Quatre Centieme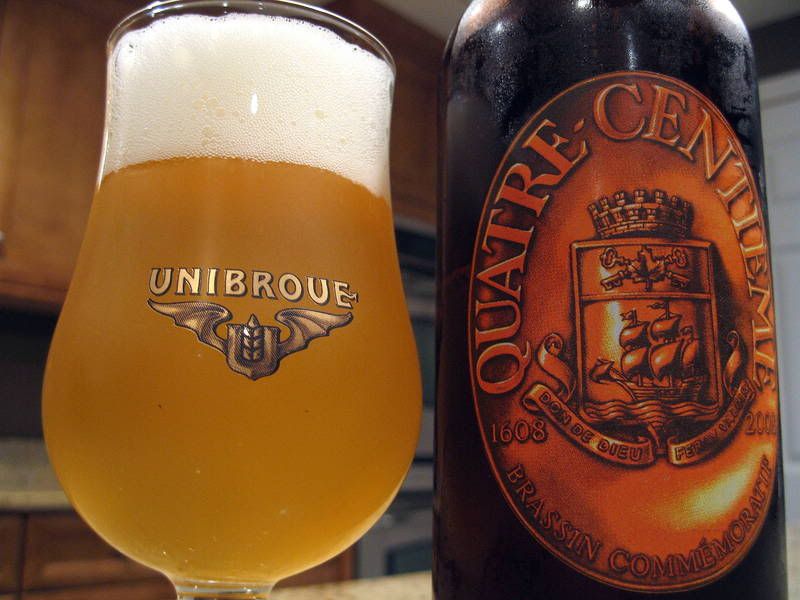 Well, Unibroue does it again. Another great beer to add to their already impressive line up. To say I like all of the Unibroue beers is an understatement. I crave them, I have a need to drink them, I ponder each sip with curiosity...I know it's just beer...but it's damn good beer!
From the back of the bottle:
This exclusively brewed beer honours all those who have made 'joie de vivre' synonymous with this amazing city!
This beer is an homage to Quebec City's 400th year anniversary. A city that is on my radar for a beer/food destination!
Unibroue sometimes doesn't put their beer into a particular category. As the case with this one, the label only says ale on lees. That's just means that it's bottle conditioned and is 'on yeast.' So, after uncorking the aroma of yeast was instant. With the first pour I noticed a great spice nose with a little citrus. The color was of yellow wheat and the tiny bubbles sped to the top to produce a white effervescent head. The clove and coriander were dominant with the first sip, then I got a slight wheat flavor that lingered, and it finished with a touch of sweetness. The mouthfeel was slightly thin and crisp with a little more carbonation than most of their beers. With only 7.5% abv it's a very drinkable beer. I would put this beer between a Belgium triple and a Belgium wheat beer. But, more important than that, I would put this beer close to the top of my favorite beer list.