Potato and Ham Soup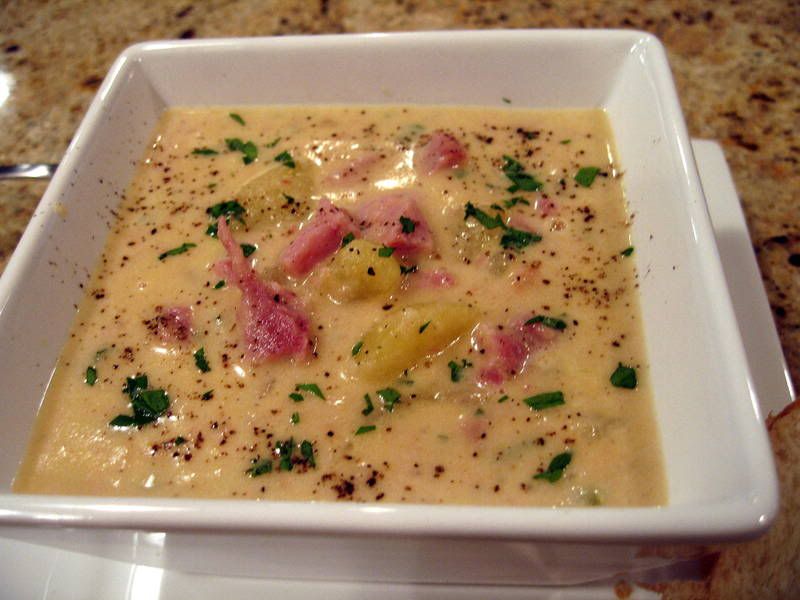 Fall in New England can be beautiful; I love everything about it. But for me the best part is the weather. I love cold nights and sunny, but brisk days. So far that's exactly what's been happening. This weather is perfect for making soup; around here fall is soup season. Nothing can warm up your night more than some homemade, soul satisfying soup.
I've added my own recipe for this soup. I've been working on it for a few years now, and I hope you will try it out yourself. I've used all different types of potatoes with this recipe and I still come back to the russet. In the soup pictured here I used Yukon Gold. Yukon's taste great in this soup but don't hold up as well as a good old russet potato. I think what makes this soup go from good to great is the homemade ham stock...it's worth it.
Making ham stock

1 ham bone
1 large onion quartered
2 celery stocks cut in half
2 carrot cut in half
1 bay leaf
Peppercorns
Place all items in a large stock pot with enough cold water to cover the bone and gently bring to a soft boil, then reduce to a gentle simmer for 4 hours. Strain well and set aside.

Making the soup

4 cups ham stock
1 cup chicken stock
3-4 russet potatoes, peeled and cubed about ½" x ½"
2 cups of diced ham (trimmed from ham bone before making stock from it)
1 onion, fine dice
1 celery stock, fine dice
1 carrot, fine dice
4 cloves of garlic, fine dice
1 cup of heavy cream or half and half
Butter
Salt and pepper
Fresh chopped parsley

Sweat onions, celery, carrots, and garlic with 3 tablespoons of butter in medium stock pot for about 5-7 minutes. Add cubed uncooked potatoes for about 3-5 more minutes. Deglaze pot with chicken stock, cook for 5 minutes. Add the ham stock and bring to a soft boil. Cook until potatoes are fork tender about 30 minutes. Add diced ham and chopped parsley. Now split the batch in two halves. Use a hand or stick blender on one batch to puree. If you don't have one you can use a stand blender, just be careful. Add the cream to the puréed halve. Then mix the two batches back together. Salt and pepper to taste. Garnish with parsley or fresh chopped chives.