Iron Chef Egg Rolls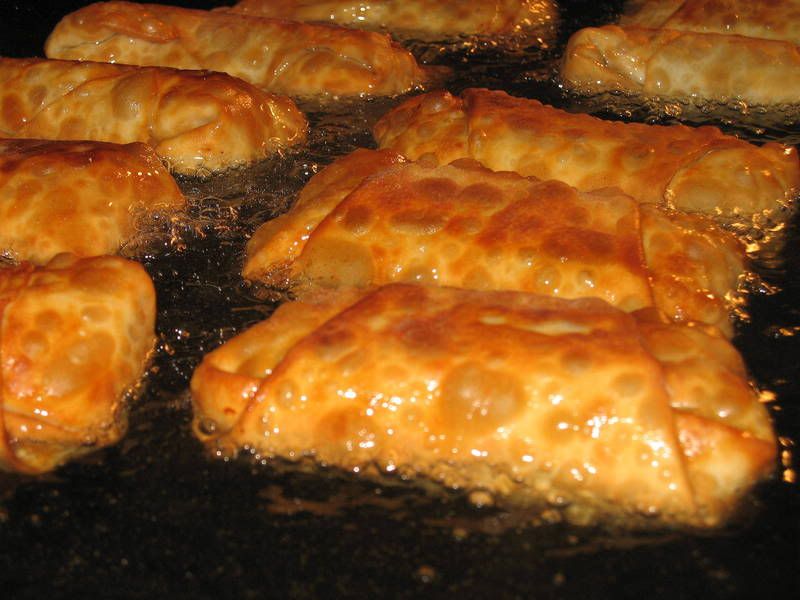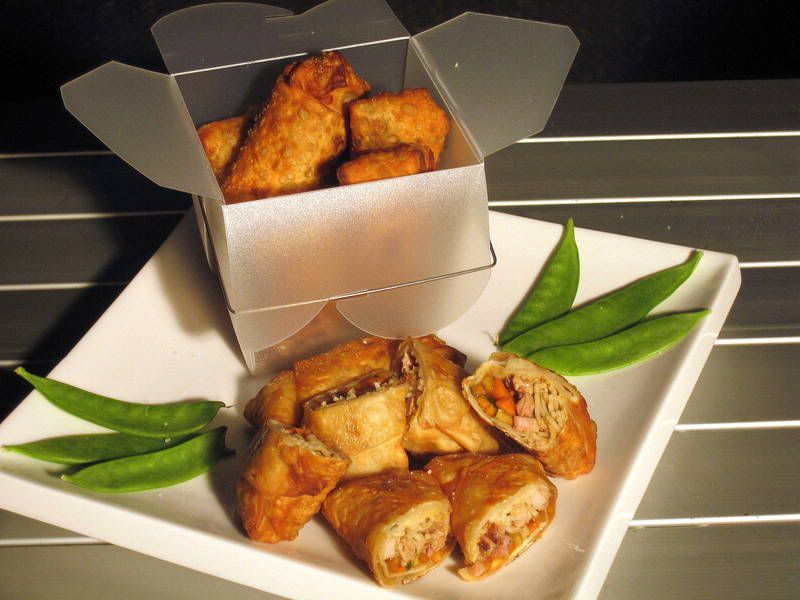 Last weekend at the Westport contest we competed in an Iron Chef competition. None of us knew what we were getting for ingredients until 5:30 PM and turn in was at 9:00 PM. After the KCBS cooks meeting the organizer handed out to each team: one pork tenderloin, one zucchini, one sweet potato, and a bottle of Newman's Own Marinade.
Weeks leading up to the contest we were trying to think what we were going to do for Iron Chef. It's very tough to plan a menu when you don't know the ingredients. So our thoughts turned to egg rolls. No matter what they give us, we'll make egg rolls. When we got our items, Kris and I just smiled. Pork, zucchini, and a teriyaki marinade! Yeah, that works. So we matchsticked the sweet potato, zucchini, and some carrots that we brought, and got all that into the marinade. I seasoned the pork and got it grilled off. I braised the veggies in the marinade just enough to soften them up. Kris got the chow mein noodles ready, got out the hot mustard and plum sauce and started to assemble the egg rolls. I got the oil ready in my new cast iron pan over the charcoal fire. This was a little scary. I had lots of people watching and I had a few drinks in me. I made sure the fire extinguisher was close by. I deep fried the egg rolls until golden brown, about 4 minutes. Kris did the beautiful presentation.
After the judging many people were coming out of the tent looking for more egg rolls. Reps, judges, and others were telling us that they tasted awesome. We cooked a bunch so we could share with the other teams around us. People really enjoyed them. Kris and I were very happy with that, but it's a double edged sword. We got our hopes up that we would get a call in the Iron Chef category...we didn't. They finished in 6th place, not bad. But after all the late night hype about the dish it was a little disappointing. Most judges gave it great scores, 2 perfect scores and 2 near perfect ones! But two of them said it was average. Maybe it tasted average, that I can accept. But, getting a 6 (average) for appearance was a tough pill to swallow. But looking back on the whole experience I don't think we would change a thing. We were feeding friends and family deep fried egg rolls cooked over a charcoal fire! A little different, a little dangerous, and one hell of a good time.