Stone Ruination IPA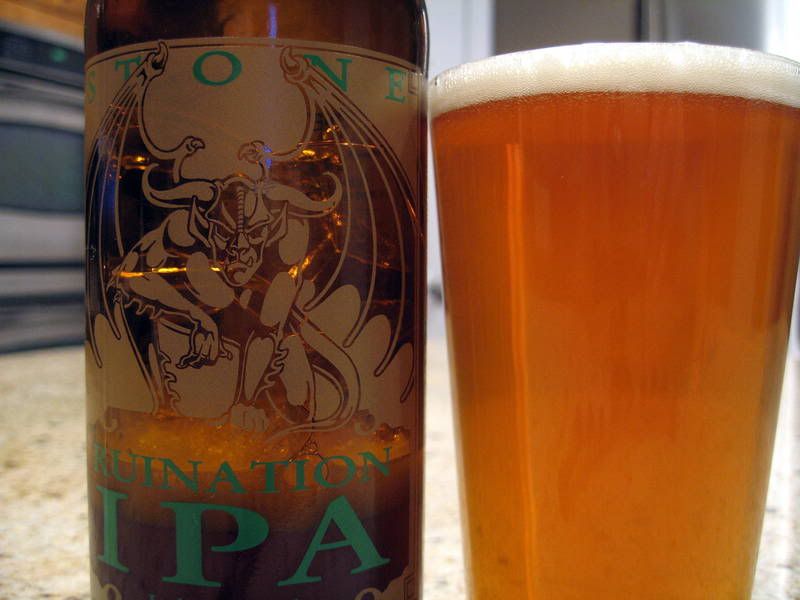 I love the
Stone Brewing Company
; their beers are bold and sometimes even adventurous. Their Arrogant Bastard ale is great, and I have the Stone India Pale Ale at my house all the time. But the Ruination IPA is exactly what I look for in a big IPA. First off, the name. They named it Ruination because of the immediate ruinous effect on your palate. They claim that when you drink this beer every other food or drink you have afterwards becomes substantially more bland. How cool is that! It's like they're saying 'you're drinking this beer and only this beer right now.' Of course a beer can't just rely on words or a cool slogan, it must deliver. Ruination does. It's a monster IPA that weighs in at 7.7% alcohol and over 100 IBU's (International Bitterness Units- how hop levels are measured). The bubbly white head sits on top of a beautiful burnt orange ale. The hops are present through out the brew. After the first pour, before I got the glass to my nose, I could smell heavy citrus and pine. As the glass got closer everything intensified and I also picked up some peppery notes. The first sip punched me with Centennial hops, one of my favorite variety's. This was actually like biting into the hop flower itself; it had tons of fresh hop flavor. This brew was clearly dry hopped with a massive amount of hops. But to my surprise it was not as bitter as I was anticipating. This medium bodied beer held it's head right to the bottom of the glass. A slight maltyness came through and also a touch of alcohol towards the finish. After all the other flavors had begun to dissipate the hops remained strong. On the bottle the slogan says:
A liquid poem to the glory of the hop!
That truly sums up this big IPA.