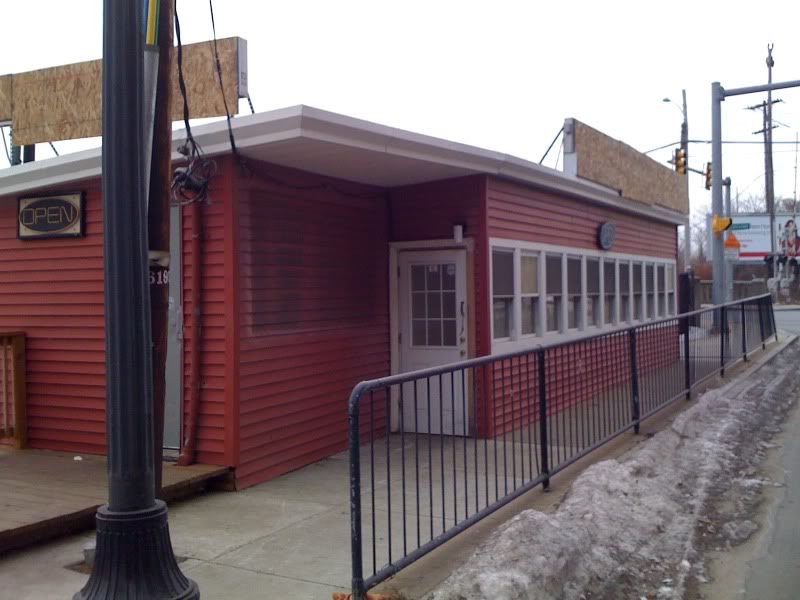 Lawton's Famous Frankfurters is now closed. This had been a Lawrence, MA institution since 1929. It was a shack, a dive, a hole in the wall, and was serving street food way before the foodies declared that stuff popular. They opened their doors 8 decades ago to sell hot dogs to mill workers. Sure, you could get other stuff there too, but to be honest I'm not sure what else was on the menu. You went to Lawton's for a hot dog.
Their dogs and buns were sourced locally (again, decades before that was the in thing to do.) There were always a few urban myths about how they cooked the dogs. Growing up I was told that they were boiled in beer. That was untrue. Another one was that they used the nearby canal water to cook their dogs. Hence the term: dirty dogs was used a lot. That was an obvious fabrication. But the myths continued and I think it added something to the place. It had charm, character, and damn good hot dogs. Truth be told they were deep fried in oil. Fried to the point of almost becoming a ripper. Toppings were the usual fare; you could get chili, sauerkraut, sauteed onions, mustard and relish. Ketchup was available in packets on the counter and was only to be used for the french fries! If you were caught putting ketchup on the hot dog you would get a verbal assault from the girl behind the counter. I would get my hot dog with sauteed onions and mustard.
Ordering was always fun too. The lines would normally be coming out of the door and on to the sidewalk. A great cross section of society was there waiting for a quick bite to eat. Young, old, all races, people in suits, people dirty from construction jobs or from working in one of the neighboring paper mills. Great proof that food can be used to unite people. Upon entering you needed to be careful of a couple of things. The place was extremely narrow and the floor was a little uneven. But more importantly you needed to watch out for the fire hydrant sticking up in the middle of this tiny shack. This place was literally built on the sidewalk back in the 1920's. Apparently back then the building codes were not as strict as they are today. After navigating yourself up to the counter, just speak up, tell them what you wanted, pay, and move on. The line would move you out the other door and on to the street. Because there was no place to sit inside this little hole in the wall.
But, now it's all gone. Another one of my childhood favorites has succumbed to the times. Not able to keep up with the fast food chains and the convenience store hot dog. But the ironic thing is that this place was both convenient and served food fast. Maybe it had just run it's course, maybe traditions are fading, or maybe the city itself is just undergoing a change. Whatever it might be, I sure will miss those dirty dogs.