Unibroue La Terrible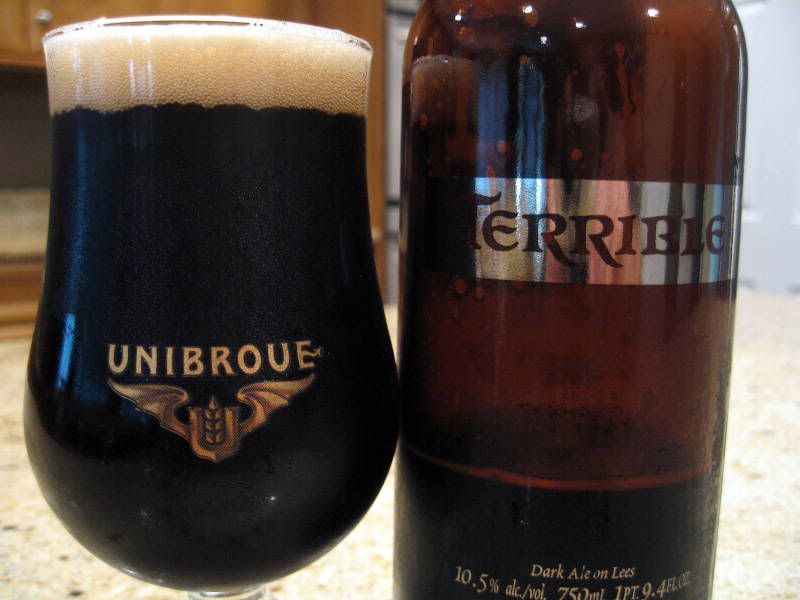 I have said it thousands of times: I don't have a favorite beer. It is impossible for me to choose just one. When summer is here it's all about the IPA's, around the holidays it's
Celebration Ale
, and I just can't get enough
Allagash
Double when fall settles in. When I'm drinking a beer that I love I'll always say something like "this one is in my top three right now." Or, "this one is in my top five of all time." But, every time I put together these imaginary lists,
Unibroue
La Terrible is always on them. Over the past three years or so, this beer never falls off the list. It is always in my beer geek subconscious. So, it got me thinking…is this my favorite beer? I think I have to say yes...yes, it is. Unibroue La Terrible is the best beer ever.
This beer produces a thick, dark tan head that defies gravity. The mellow carbonation keeps the foam floating like a cloud atop this dark, almost black ale. Holding this beer up to the light you can see a spectrum of dark red and deep mahogany. A nose of fruit, yeast, and alcohol take their turns as the predominate aroma. The first sip hits me with subtle sweetness and dark fruit; the next reveals baked bread; and another sip has warming alcohol and raisins. It's a big, unique, and very complex beer that takes you on a new adventure with every sip. La Terrible weighs in at 10.5% alcohol but has a smoothness not often found in a big, bold beer like this one. It will creep up on you if you're not careful. This beer is best enjoyed from a cracked plastic cup, during a torrential rainstorm, while sitting in a dilapidated, abandoned horse track in New Jersey...it's just
that
good.