By Kris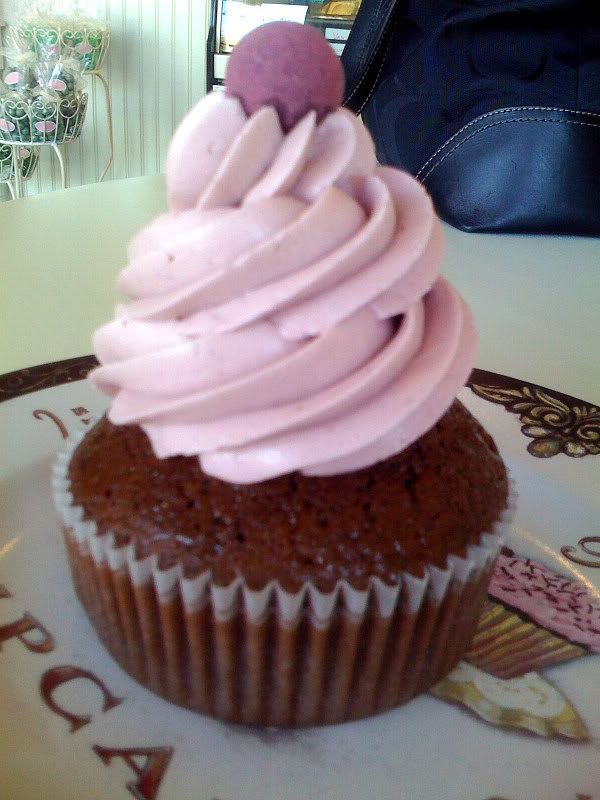 We love to try new places. When we discovered a new gourmet cupcake shop we couldn't wait to try it. This place is an absolute delight! Shabby Chic is located on Cobbett's Pond Road in Windham, NH. It's worth a trip no matter where you're coming from. It's a quaint little place that lives up to it's name. The shabby chic atmosphere complete with chandeliers, porcelain serve ware, and tiered silver trays, is a great place to kick back, relax, and enjoy a latte and a cupcake or two.
The cupcakes are very generous. They are moist, fresh, and flavorful with a wonderful light crunchy glaze on the top. The frosting is light and airy and packed with flavor without being overly sweet. You can enjoy these sweet treats without slipping into a confectionery coma.
Lisa, the owner and baker, has many different cupcake creations that differ from day to day. Part of the charm of a visit to Shabby Chic is that you never know what wonderful indulgence awaits you. So far we have tried a simple and delicious vanilla cupcake with vanilla buttercream frosting, vanilla cupcake with strawberry filling and strawberry frosting, chocolate raspberry cupcake with raspberry frosting, chocolate cupcake topped with a decadent crunchy peanut butter frosting, and banana cupcake with banana frosting. All the fillings are made from fresh fruit and everything is homemade daily.
All this cupcake talk has peaked my curiosity. I wonder what's in store today. I think we should stop by Shabby Chic. You should too. You'll be glad you did.