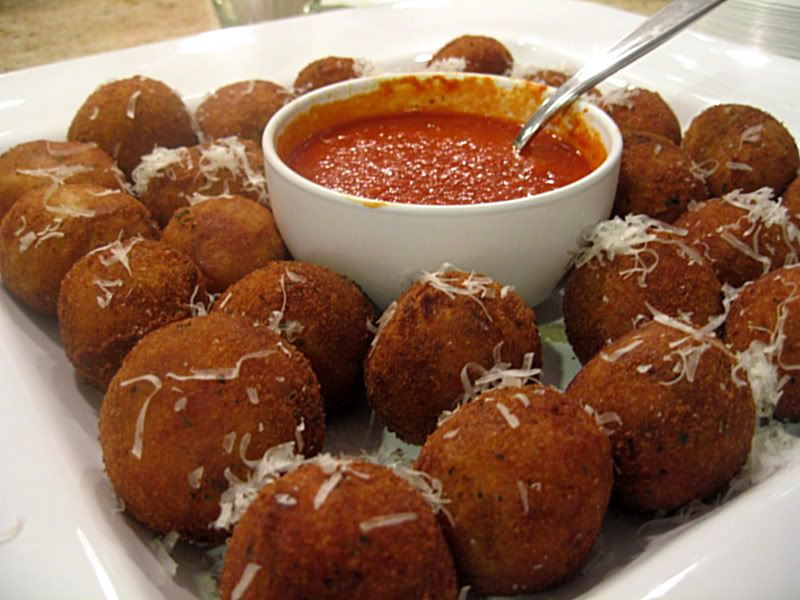 I make these all the time when we have a good sized gathering at the house. Most of the work can be done way ahead of time which is always a plus. I like to braise the steak and make the risotto the day before, mix them together, and let it sit in the fridge overnight. But, you can certainly do whatever works for you.
Steak:
1-2 pound flank steak
Salt, pepper, garlic powder
Canola oil
Beef broth
Risotto:
2 cups of arborio rice
3 tablespoons olive oil
3 tablespoons butter
1/4 cup minced onion
6-7 cups hot chicken broth
1/2 cup parmesan cheese
Salt and pepper
Assemble:
Flour
Egg wash
Seasoned bread crumbs
Fry:
Canola oil
Salt
Serve:
Parmesan cheese
Your favorite tomato sauce
Season the flank steak with salt, pepper, and garlic powder. Sear in a hot pan with the oil. Remove steak and deglaze the pan with the beef broth. Return the steak back to the pan and add enough broth for braising. Cover and cook gently over med-low heat for about an hour. When it's done let the steak rest in the braising liquid while you make the risotto.
Sweat the onions in the olive oil and butter for 5 minutes over medium heat. Add the rice and mix well to coat every grain in the fat. Cook, stirring often, for 4-5 minutes. Gradually start adding the hot chicken broth one cup at a time. When the rice absorbs the broth add another cup. This should take about 25 minutes. When the rice is done, season with salt and pepper, and add the cheese.
Slice the steak into small chunks. About 1/4 - 3/8 of an inch; you don't want them too big. Dip them back into the braising liquid for a few seconds, then fold it into the rice. At this point you could put the rice into the fridge or continue.
Using a small ice cream scoop (I use an inch and a half scoop) make the balls. Just scoop the mixture into your hand, and roll. The same way you would make a meatball. Lay the balls out on a parchment lined baking sheet.
Coat the balls with flour, egg wash, then seasoned bread crumbs. (I use Italian style for these) At this stage they can be deep fried right away or can go into the fridge for a couple of hours.
Bring the oil to 350 degrees and deep fry balls until golden brown. Drain on a cooling rack and season with salt. I do multiple batches keeping them in a low oven until ready to serve.
Serve hot with fresh grated parmesan cheese over the top and tomato sauce on the side. Enjoy.