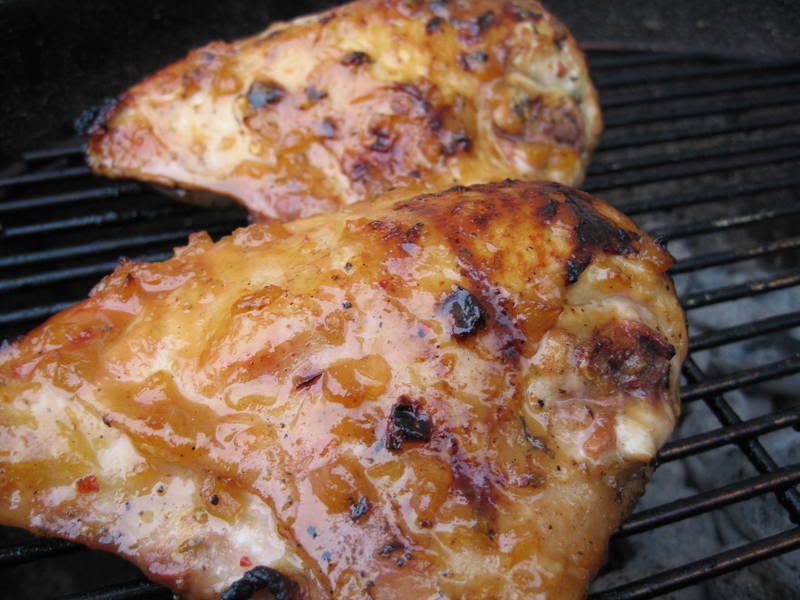 Spicy Moho Marinated Grilled Chicken With an Orange Glaze
I'm not a big fan of chicken breast, I find it very boring. I'm also not a big fan of heart disease and high cholesterol so I know I can't always eat pork ribs and brisket. So every once and a while some chicken breast and a salad finds it's way on to my table. Here's the recipe:
Spicy Moho Marinade
16 oz. fresh orange juice
4 cloves of garlic, minced
2 tablespoons of crushed red pepper
2 tablespoons of dried oregano
Juice from 1 lemon
Mix together the above ingredients then whisk in
1/2 cup of vegetable oil
Season the chicken breast with salt and pepper. I used split breast bone in.
Marinate the chicken overnight.
Sear the chicken on both sides over high heat, then move the chicken away from direct heat and finish cooking indirectly. Glaze the chicken with orange glaze every 5-10 minutes throughout the cooking process.
Orange glaze
Mince a small red onion and saute with with 2 tablespoons of butter
Add 2 cups of orange juice and simmer
Reduce by half, this should take about 15-20 minutes
Whisk in 2 tablespoons of honey